How to enjoy Hyotan Onsen
HOME > How to enjoy Hyotan Onsen

Clean your mind and body! Carefree Mini-Detox course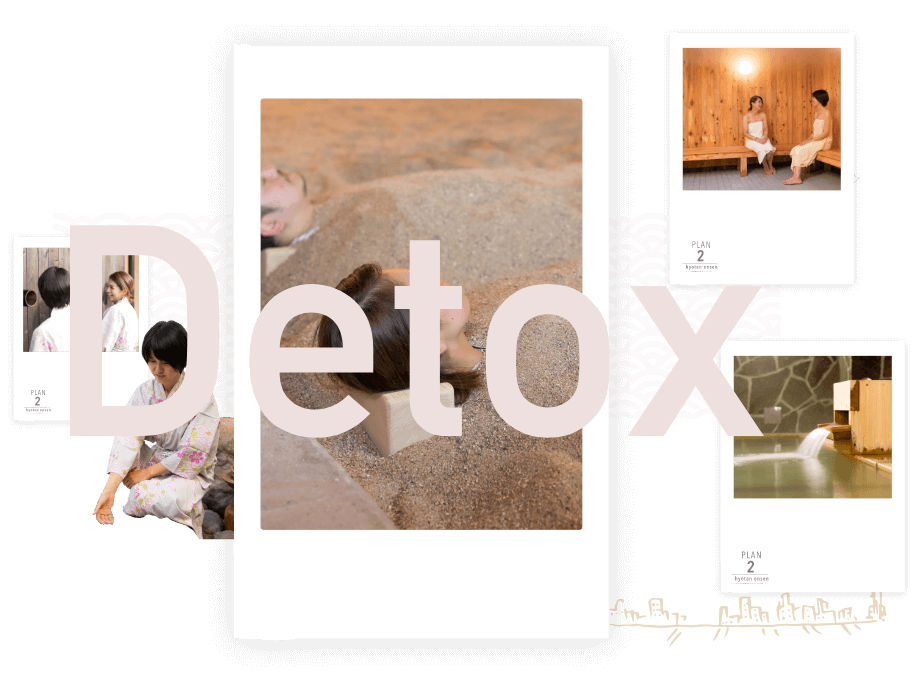 Combining steam bath and sand bath makes your skin lustrous.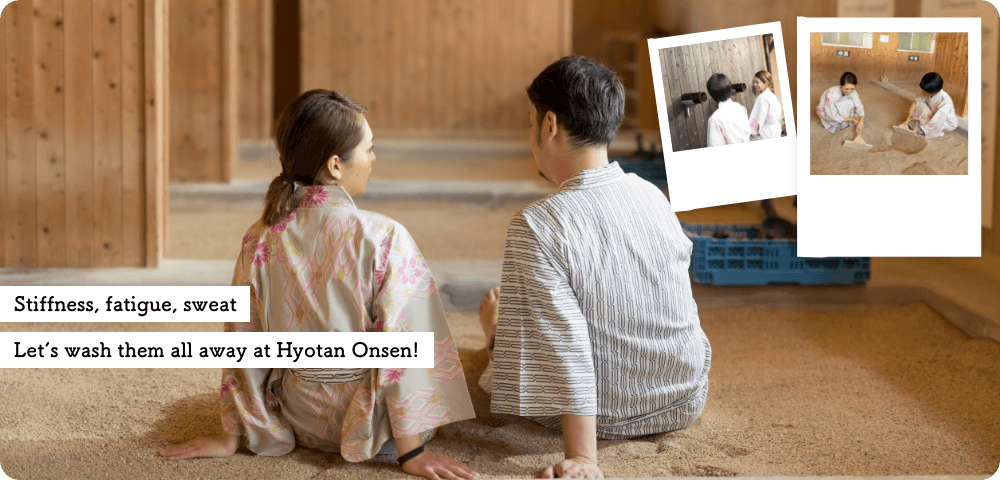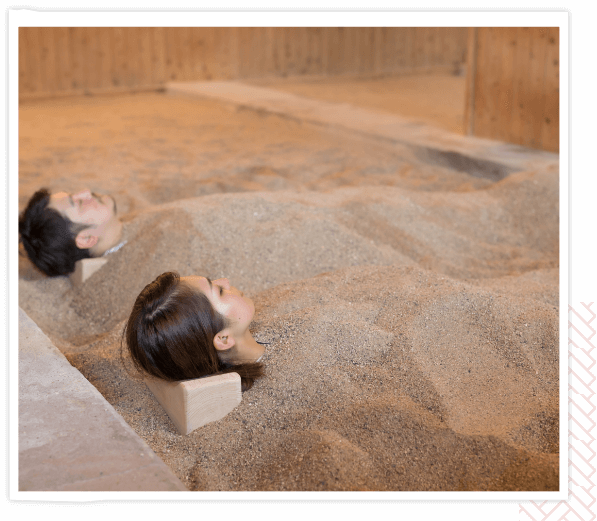 As your body gently warms up,
gradually, unwanted waste from your body will discharge.
Sand is heated by natural onsen steam. Since Hyotan Onsen uses mild steam to heat the sand, even those who are not familiar with the heat can enjoy sand bathing.
When being wrapped in the warm sand, incredibly both mind and body start to relax.
It is one of the remarkable points of Hyotan Onsen that we offer unlimited time to use sand bath.
Alone or chatting with your family and friends, you can sit back and relax as long as you like without worrying about the time. After sweating out in sand bath, wash off sand and sweat in the shower, you will feel totally refreshed.
Beauty and Relaxation, let's enjoy both to your heart's content at Hyotan Onsen's Mini-Detox course!
How to enjoy sand bath.
 Change into a yukata and go to the sand bath!
 Dig up sand while checking the temperature at the same time. Be careful, the deeper you dig, the hotter it gets!
 Cover your friends, family members and yourself with steamed sand. Have a good time♪
 There is no time limit! Enjoy sand bath to your heart's content!
 

Shower off sweat and sand, then check out the main public bath!

Stiffness, fatigue, sweat
Let's wash them all away at Hyotan Onsen!
In Beppu, famous as a hot spring resort town, Kan'nawa Onsen has the highest quantity of steam. There is a traditional atmosphere with yukemuri, clouds of rich steam. Hyotan Onsen, located in Kan'nawa, offers you an experience of a natural sauna with plentiful thick steam.

Steam bath from the hot spring is quite different from the common onsen. Plentiful steam warms your entire body gently, gradually relaxing stiff muscles and relieving fatigue. It makes you feel like being inside a steam treatment system, the steam opens your pores, stimulates sweat, and makes your skin silky smooth. Inhaling onsen steam eases respiratory disease symptoms, and cleanses the body from inside.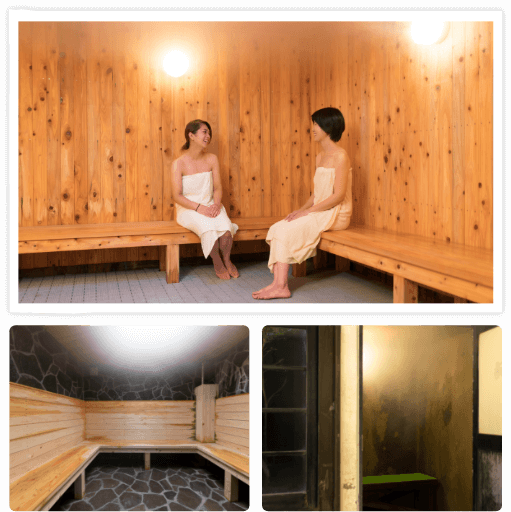 Beppu hot spring resort, taking pride in both the number of hot springs and the volume of natural artesian water, Kan'nawa Onsen area is well known for its remarkable atmosphere and outstanding amount of yukemuri steam. While taking a casual walk, you will find natural artesian spring water at almost every corner of Kan'nawa.
People have long loved this scenery, and handed down the culture of utilizing the steam, such as steam baths, and Jigoku-mushi cuisines.
It is not too much to say that Kan'nawa, Beppu has grown with the onsen yukemuri steam.
Tips on how to fully enjoy steam bath at Hyotan Onsen
Basic steps of taking steam bath

First, enjoy sand bath! Sweat as much as you can!

Shower off sweat and sand.

Get into the steam bath! Relax in the steam

Rinse off sweat in the shower or the main bath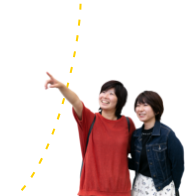 Hyotan Onsen's Jigokumushi pudding is original. It is popular for its firm texture and nostalgic taste.
Soft serve ice cream, another original dessert, contains concentrated ingredients of hot spring water. The secret of being popular is a great combination of rich milk and salty ingredients in natural spring water. This sweet serves two ends: great taste and healthy effect to your body.