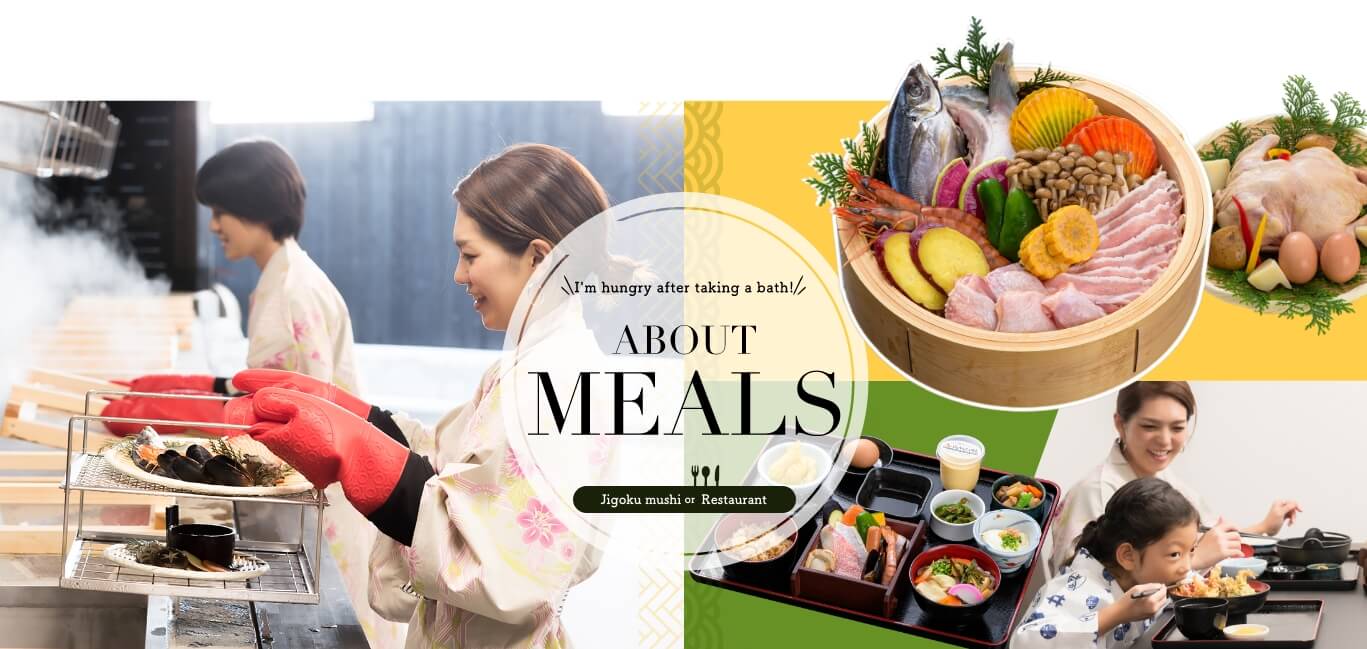 We provide not only onsen but meals to please your palate and body.
Try jigokumushi dishes, eat original onsen pudding, or enjoy a happy dinner with your family
at the restaurant…Since you are here at Hyotan Onsen, which ways would you like to have a great time?

11:00 〜 Last order 21:00
Local people call hot springs "Jigoku". At Hyotan Onsen, we use a Jigoku pot which utilizes hot spring steam to cook,
and offer delicious dishes with the maximum full flavor of the ingredients
The ingredients including the seasonings such as soy sauce, are all locally made or grown, we focus on local produce for local consumption,
you can enjoy delicious cuisine from Oita.

Jigoku mushi is a traditional cookery using hot steam from onsen in Kan'nawa.
Ingredients in a steamer called Jigoku gama are cooked in steam from onsen slowly.

Jigoku seafood pile

5,000

yen (tax included)

・2 whole shrimps
・2 scallops
・1 mackerel cut open and dried
・2 pieces of fish cheek
・Half crab
・Sliced fish meat

Jigoku steam Tofu&Vegetables

700

yen (tax included)

・Tofu
・About 5 types of vegetables

Steamed whole chicken

1,800

yen (tax included)

・1 whole chicken
・Items for packing inside Eggs, etc.
How to use Jigoku Steam Kitchen
Purchase ingredients

Please purchase the Jigoku steam fee and ingredients ticket at the vending machine,
then go to the kitchen to exchange the tickets to receive the ingredients and your receipt.
If you need to cut the ingredients please make the request at the kichen.

Take out the bamboo basket

Please open the lid slowly, and take out the bamboo basket for the ingredients.
Caution, please do not get burned by the steam!

Put the ingredients in the bamboo basket

Put the ingredients on top of the bamboo basket, and put the basket in the pot slowly.
Please put the "In use" sign on top of the pot after you close the lid, and wait.
If you want to bring ingredients in

If you bring ingredients in to cook on onsen steam, you will be charged 2,000 yen for using one steamer every 30 minutes.
(* Steam cooking by customers may not be available on weekends, holidays, and peak seasons such as New Year and Obon.)

11:00 〜 Last order 21:00
In addition to our facility's remodeling during Nov. 2019, we renovated "Hyotan Onsen Restaurant Yurari," as well.
Put on a set of yukata (Kimono style pajamas) and let your body enjoy the last few remnants of the natural hot springs,
while you take time to relax with a drink or a meal. This makes you feel like had a short trip at a ryokan.
With our brand new remodeled space and new menu, Hyotan Onsen is ready to bring our guests the best delicacies to enjoy.

Please refrain from bringing food and drinks into the facility, except baby food and allergy-free food.
Fixed plans
(* Reservation required)
Set meal plan

2,980

yen (tax included)

Set meal plan

6,500

yen (tax included)
On bathing set plan, you can only take onsen bath on the day.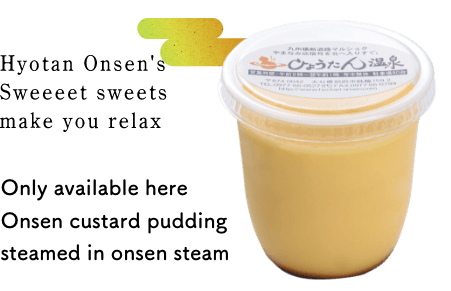 Hope you try and savor the smooth texture enhanced by the newly selected eggs!

Onsen custard pudding is made daily with steam from hot spring in the facility.
Please enjoy it after bathing in onsen!