How to enjoy Hyotan Onsen
HOME > How to enjoy Hyotan Onsen

Hyotan Onsen on the weekends♪ Family leisure course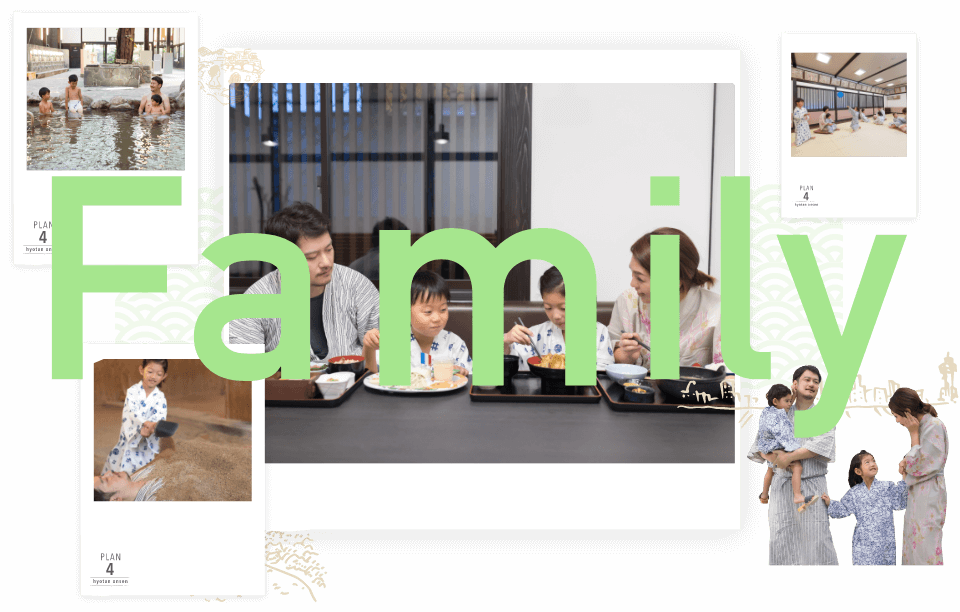 Feel like being on a short vacation, everybody smiles
Private family bath at Hyotan Onsen is a family trea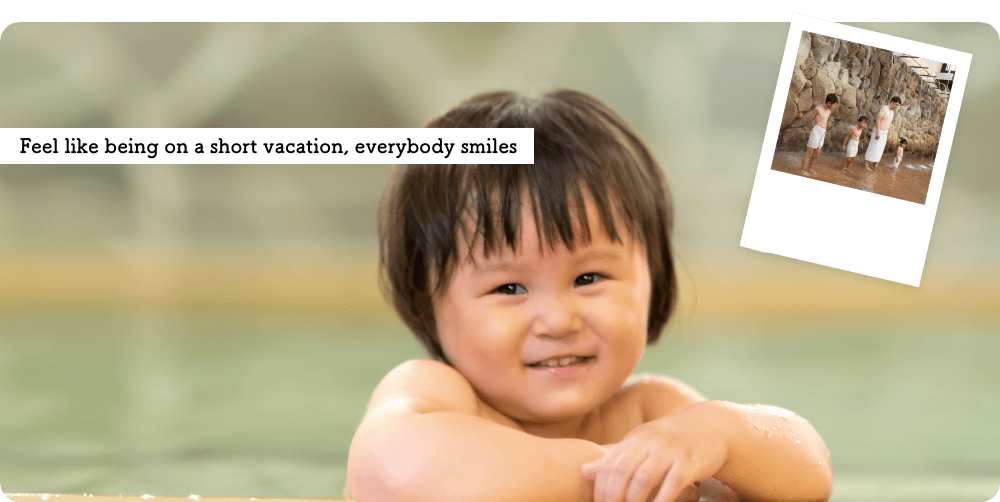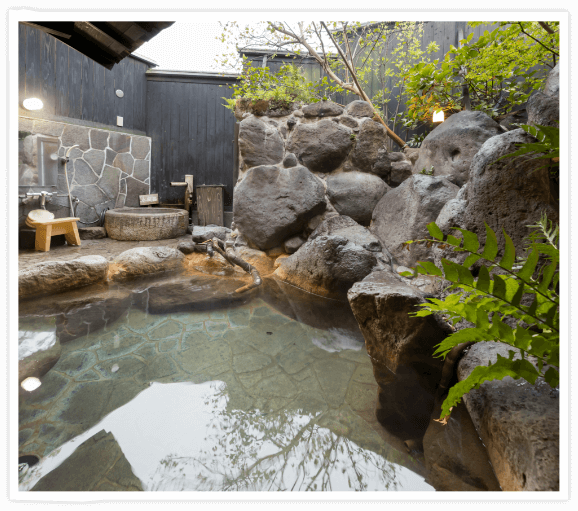 Families are offered to rent out both of our steam bath and natural free-flowing hot spring bath.
Enjoy the delightful moment feeling a little luxury without hesitation
It costs 2,300 yen at Hyotan Onsen to rent private family baths. There are 14 different types in taste and structure to choose from. 8 indoor baths and 6 open-air type. Each has its own theme and a particular atmosphere where you will have an extraordinary experience. They bring our guests delightful moments like staying at a high-end Japanese ryokan.
The bath water is changed for each use, there is no need to worry about sanitation. We generously use 100% natural free-flowing spring water.
Private family bath is a special space where only family members share. Our family baths are kids friendly. We also offer barrier-free wheelchair-accessible family baths, everyone is welcomed to enjoy an onsen treat.
Choose your favorite family bath from our 14 different themes and setups
The basic charge for family bath is 2,300 yen (which covers 3 adults, or 2 adults with 2 children from 4 years old up to 6th Grade)
More than 3 adults may rent one family bath with an additional charge.
Gain both beauty and health with the steam bath at private family baths♪
Hyotan Onsen's private family baths come with steam baths that filled with steam from natural hot spring. The whole family can enjoy it exclusively, while having a good time talking to each other. Our guests can expect effective improvements on skin the whole body like receiving a facial treatment since the steam contains natural onsen minerals. Moreover, it is said that inhaling onsen steam will ease respiratory disease symptoms.
Plenty of perspiration leads to detoxing, skin gloss effects and satisfaction to all family members. Why not try?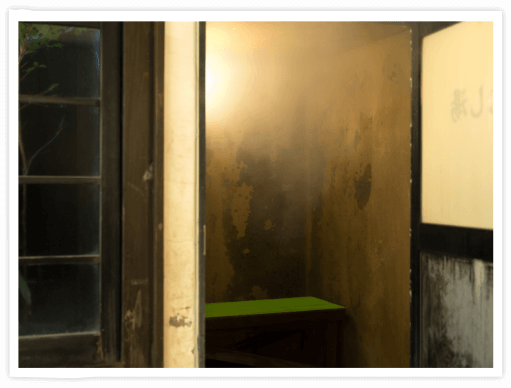 Play cards? Chatting? Welcome to our rest area!
Try Jigoku mushi cooking? Let's have fun at Hyotan Onsen!
Hyotan Onsen offers an over 50 square meters rest area for free. Here enjoy a good time of talking to the families, play cards, take a break, or just relax the way you want. At a place different from the daily life at home, conversation between couples and communication with children will be more encouraged. We also provide a pay rest area with a limit on the number of people.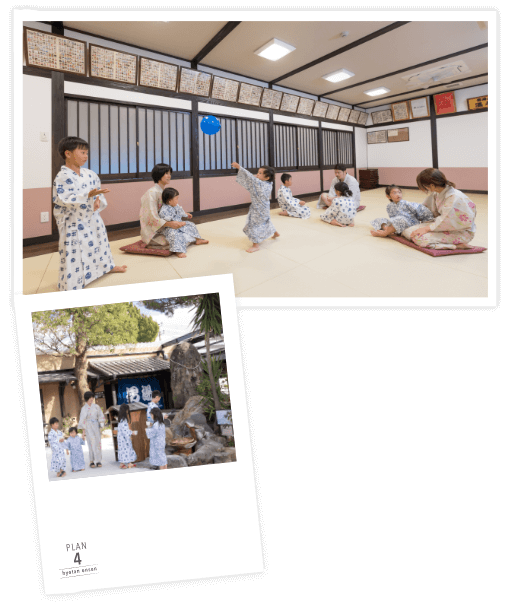 To conclude the weekend, have dinner in yukata at our restaurant.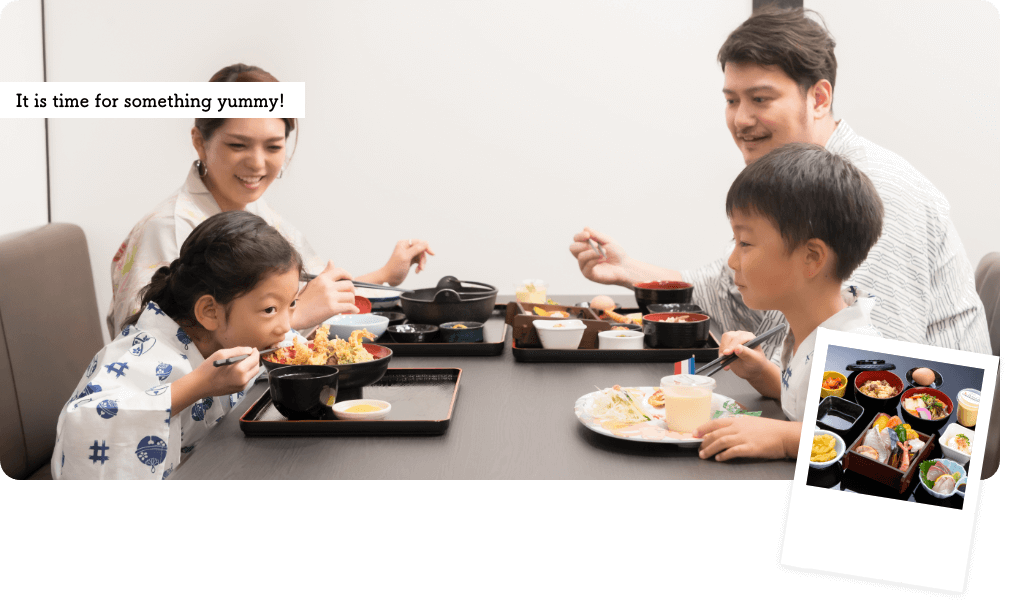 Keep the feeling that you're on a short vacation, enjoy your weekend.
t is exciting for our guests to have dinner wearing yukata. It is quite different from daily life because it feels like staying in a ryokan. Hyotan Onsen's restaurant serves about 30 dishes, which are mostly Oita's local cuisines such as red snapper head meal set and chicken tempura meal set and so on.

We also serve kids' meal and sake, everybody in the family can be satisfied.
We offer unique onsen desserts, such as steamed pudding made by Hyotan Onsen's steam and soft-serve ice cream contains hot spring minerals.
After onsen bath and dinner, all that's left is going to bed when you arrive home. A trip to Hyotan Onsen completes a fulfilling weekend.