How to enjoy Hyotan Onsen
HOME > How to enjoy Hyotan Onsen

Stop by the onsen! A refreshing short-time course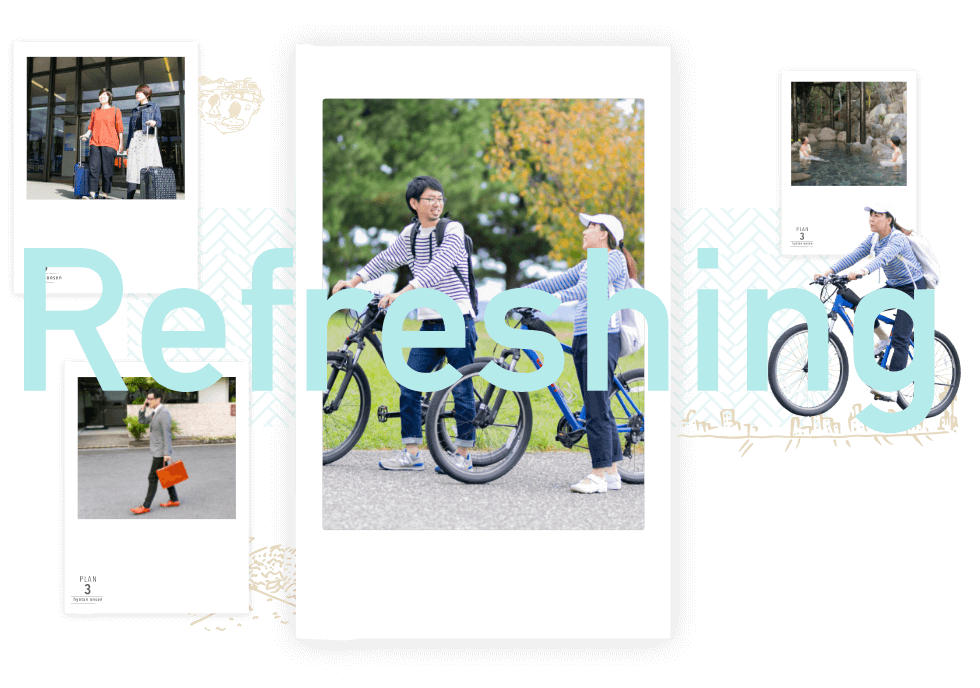 Casually visit and fully enjoy Hyotan Onsen, a genuine hot spring.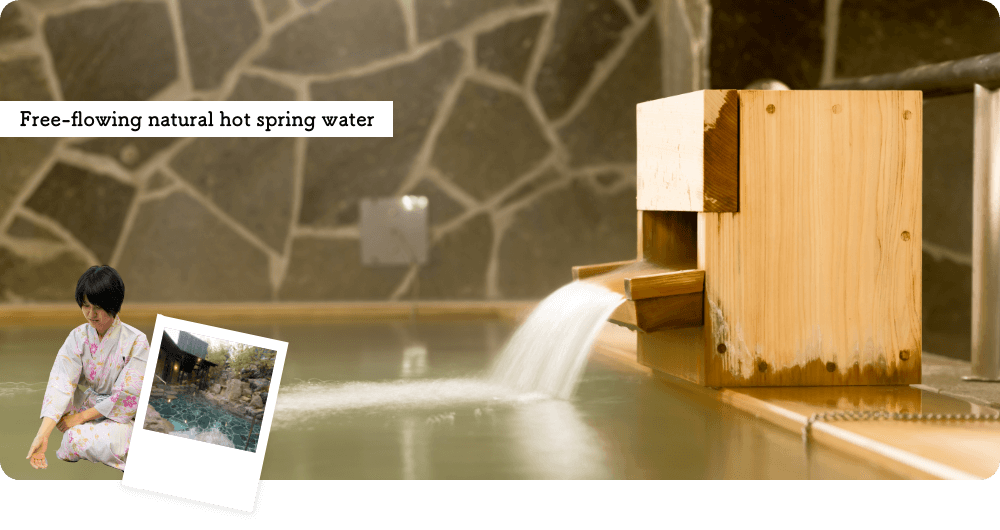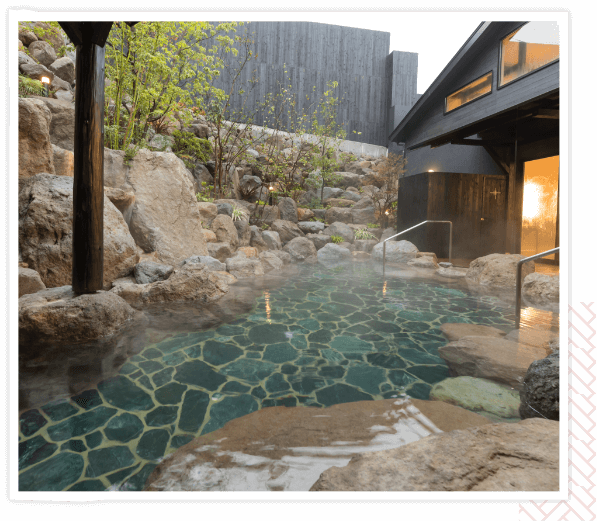 Let's try out the favorite hot springs!
Pick the best ones from a wide variety of courses
Hyotan Onsen features spacious space and various types of hot springs. It is an ideal place to visit casually, as to kill time while waiting for a train or ferry on the way home from sightseeing or a business trip. Relax in the Japanese cypress hinoki bathtub, relieve fatigue in the waterfall bath, unwind in a spacious open-air bath. Among the various hot springs, choose your favorite one to recover from your day of exhaustion.
Hyotan Onsen only uses free-flowing 100% natural hot spring water, without adding tap water or spring water has been cooled naturally for many hours. Our onsen water cooling system Yumetake, a unique system made of bamboo, enables us to use fresh-drawn water from the thermal spring. Experience an authentic free-flowing natural spring onsen!
Free-flowing natural hot spring water.
Types of Onsen

Hyotan Onsen, Takiyu waterfall bath, Japanese cypres hinoki bath, Walking bath, steam bath, Open-air bath, Sakazuki sake-cup bath (for women), Stone bath (for women), Rock bath (for men), Cool water bath (for men)


Want to treat yourself with a luxury hot spring bath?
Refresh yourself in a nice cozy onsen, enjoy a luxury time after a day's hard work.
When you are tired of the business hotel's bath, when you want to enjoy a short sightseeing trip in Beppu, or when you need to relieve fatigue; it's time to leisurely visit Hyotan Onsen which packed with exceptional attractions of Beppu. Hyotan Onsen is your best choice to savor the essence of sightseeing in Beppu and to fill in the gap time of your business schedule. You can wash away debilitation with free-flowing 100% natural hot spring water.

After relieving yourself from the weariness of hard work, we recommend that you visit Hyotan Onsen's restaurant Yurari and the rest area. You don't need to leave the premises to relish on Oita's local specialties or steamed cuisine, Jigoku mushi. As we sell towels and lend out kimono bathrobes, you can come empty-handed. We are open from 9:00AM till late-night 1:00AM. No need to hesitate, there's plenty of time to bathe even after working late. The time you spend relaxing in the wonderful free-flowing natural hot spring will give you the vitality for work the next day.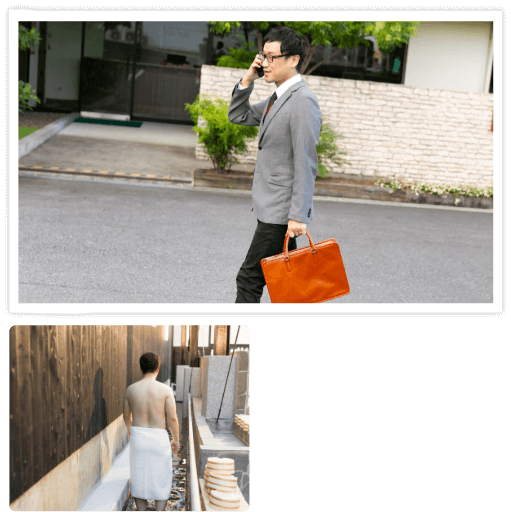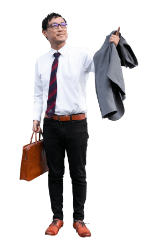 Tired of riding…
Wouldn't it be awesome to take a break at an onsen?
Oita Prefecture is proud of its bountiful beautiful scenery of nature, mountain roads and passes which are the most suitable for touring. Hyotan Onsen, located in the Kan'nawa hot spring area in Beppu, is very popular among those who are on the touring courses through the Yamanami Highway from Yufuin, or who are on the way home from Kijima Kogen Park. A free large parking lot and spacious facilities are available to accommodate groups of visitors. Shampoos, conditioners, and body soap are provided and towels can be purchased, therefore you can come to enjoy bathing empty-handed. After washing off your sweaty body in the large bath and relieving yourself from fatigue, either take a break at the roomy rest area, or enjoy something delicious at Hyotan Onsen's restaurant Yurari, is a good option.
※Admittance of a group of visitors is subject to availability.
Reservations of large groups are recommended.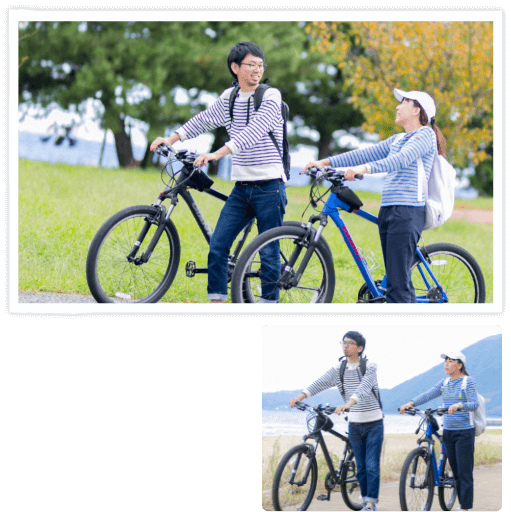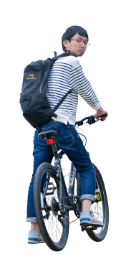 Let's go to Hyotan Onsen anyway!
When you have to wait for a couple hours for your ship or ferry, it is a good solution to visit Hyotan Onsen as the finale of your hot spring tours.
This is because the feature of Hyotan Onsen, free-flowing 100% hot spring water is very rare in Beppu. Most other facilities in Beppu add tap water or cool the spring water down, which works negatively. Aadding tap water lowers purity, and cooling naturally for hours disposes spring water into the air oxidizing and makes it loose freshness. On the other hand, Hyotan Onsen has a bamboo cooling system, Yumetake, which is our own unique technology. Why not try our genuine free-flowing hot spring water for the last step of your trip to Beppu and Yufuin?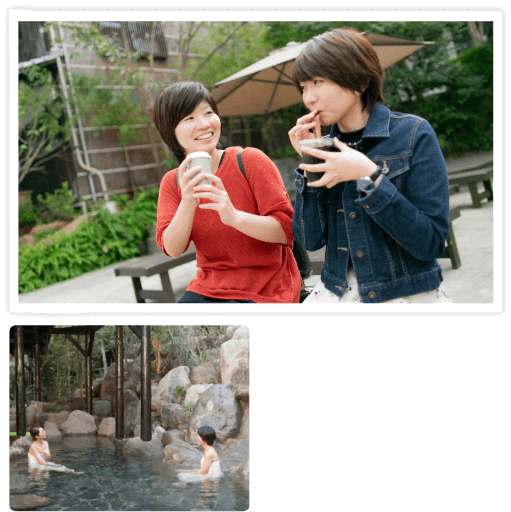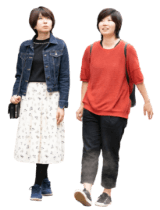 Hyotan Onsen's Jigokumushi pudding is original. It is popular for its firm texture and nostalgic taste.
Soft serve ice cream, another original dessert, contains concentrated ingredients of hot spring water. The secret of being popular is a great combination of rich milk and salty ingredients in natural spring water. This sweet serves two ends: great taste and healthy effect to your body.