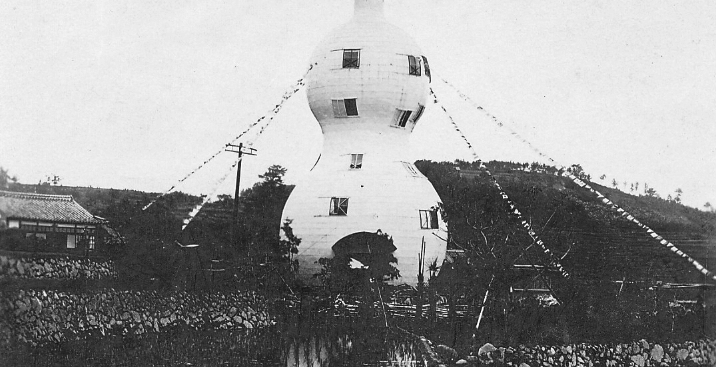 This facility was founded 100 years ago, and today, we are still particular about the quality being genuine.
Hyotan Onsen began as the founder, Junsaku, carefully thought of a means to help heal his wife, Matsu.
In 1911, the facility began after Junsaku dug out a hot spring in order to help heal his wife's arthritis.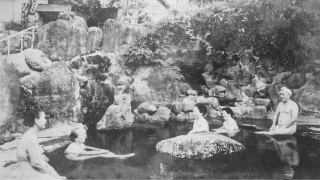 The first bath was created by rocks and in the shape of a gourd. This rock bath still remains in the women's bath today and is beloved by many guests.
An 18 meters high, 7-story observation deck "Hyotan Pavilion" was built in 1927. The photo on the left shows the Pavilion at the time.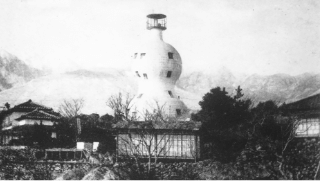 Junsaku choose the shape of a gourd in recongnition of the fact that he admired Hideyoshi Toyotomi, one of the greatest samurai leaders in the 16th century who had the emblem of the gourd on his flag.
In order for Junkasu to build the gourd shaped pavilion, he had to collect bent trees from all over the country.
Although the pavilion is long gone, the popular observation deck was said to have been visible from anywhere at that time.
Even now, the gourd shape is still an inspiration found throughout the facility. As it appears in many of the designs of our family baths and courtyard.
"The best mountain is Mt. Fuji, the best ocean is Setouchi,
the best hot spring is in Beppu"
Hyotan Onsen being introduced by Japan's first female bus guide.
As symbolized by the phrase "The best mountain is Mt. Fuji, the best ocean is Setouchi, the best hot spring is in Beppu",
Beppu is the best hot spring town in Japan.
This catch phrase was created by Kumahachi Aburaya.
He is also the first person to hire female bus guides on a sightseeing buses.
Beppu onsen tours, etc., were advertised in Haiku at the time,
and Hyotan Onsen was advertised in it too.
Hyotan Onsen provides various baths that represent Kannawa Onsen
Beppu, Hamawaki, Shibaseki, Kannawa, Myoban, Horita, Kankaiji, and Hamawaki are called "Beppu Hatto".
The 8 hot spring areas offer beautiful scenery and various types of water with different qualities in Beppu.
There are 11different types of hot spring water qualities found, and Beppu Hatto has 10.
Hyotan Onsen represents Kannawa area in Beppu Hatto,
and it is beloved by both locals and tourists.

Even though we have more and more guests each year, there is still plenty of room for everyone to enjoy.
There is also a restaurant that our guests can enjoy.