We carefully control the sanitation in the bath houses every single day.
100% natural hot spring water is essential for Hyotan Onsen. We believe, however, only free-flowing spring water is not enough to satisfy our guests.
We sincerely hope you feel refreshed by soaking in a clean bathtub, as well as eagerly hope you get relaxed in fresh natural spring water.
To keep bath water clean, we thoroughly wash all the bathtubs clean every single day.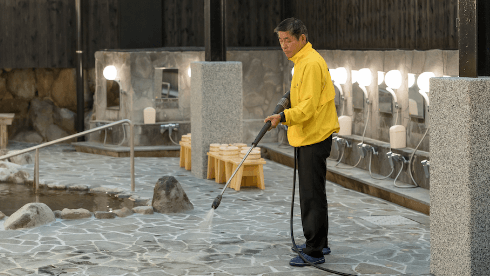 Remove all hot water from all bathtubs and thoroughly clean
First, after business hours we drain all bathtubs.
And then, we wash every corner and joint of the large bathrooms' floor tiles and every gap between the rocks, using a high-pressure jet cleaner, not brushing by hand.
Minerals of hot spring water easily are apt to stick on bathtub and floor. Unless these minerals are washed away after draining the bathtub, they can immediately crystallize.
Hopefully, you will be impressed with the cleanliness as well as the high quality of 100% natural hot spring water.
With this strong determination, we brandish high-pressure cleaner day after day.
Our perfectionism with providing clea bathwater and in the optimum condition.
After draining and cleaning, we dehydrate bathtubs to kill Legionella prenumophila. The following morning, we fill all the bathtubs with fresh spring water.
As for private baths, we drain, clean and dehydrate the bathtubs right after use. Just before the new guests use it, we fill it with fresh water and issue a token to run spring water into the bathtub.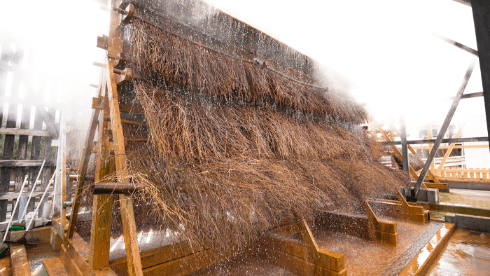 Cooling hot water using only natural power
Hyotan Onsen's spring water is about 100℃. It is too hot to run into the bathrooms directly and use for bathing.
Adding cold water, however, to cool it down can add impurities and impair the merits of natural hot spring water instantly.

Therefore, we set up yumetake, cooling device made of bamboo, with which boiling water is cooled down to between 45 to 50℃. This system is used to control the spring water temperature, even for the large public bath.
Our experienced staff adjust the water temperature carefully to the circumstances: season, weather and time of day. They do not use any machinery.
It is the strong determination of Hyotan Onsen to enable you to experience the very best of fresh natural hot spring any time you visit.
Using natural hot spring water is making the most use of minerals contained in "the gift from the earth."
Most people go to the onsen to take a bath, just soaking in a bathtub.
The real pleasure of bathing in onsen is to take the gift from the earth into your whole body and relax.
But at Hyotan Onsen, we hope you realize the good effects of the minerals in steam form hot spring ,
adding to just soaking in hot spring water.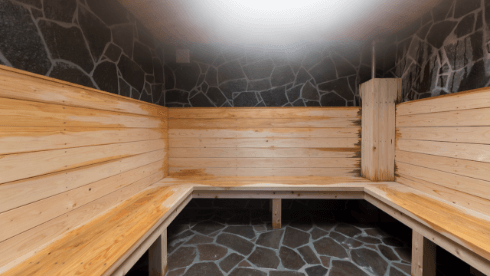 "Mushiyu" using hot spring steam
One of the usages of steam is mushiyu steam bath. We use the clouds of steam from hot spring for sauna.
Our sauna is expected to make your skin soft and smooth because its steam does not irritate but seeps into your skin gently.
At the same time, inhaling ions in the steam through the nose and mouth helps treat irritations in respiratory organs including bronchus.
We prepare two mushiyu at different temperatures, 45 and 54℃ so that you can choose the best fit to your condition and air temperatures.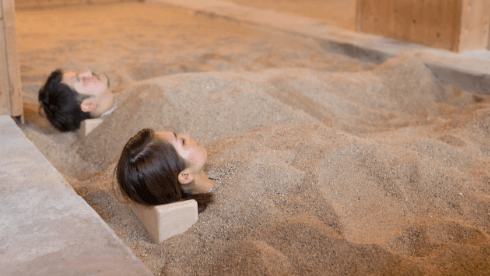 "Sunayu" using source steam
Steam from hot spring is also used to heat Sunayu sand bath featuring smooth texture of its sand. Sand is steamed from spring water at high temperature, thus it is not sticky or heavy. As you can control the temperature by adjusting the amount of sand you put on your body, you and your company will put the best amount of warm sand on each other.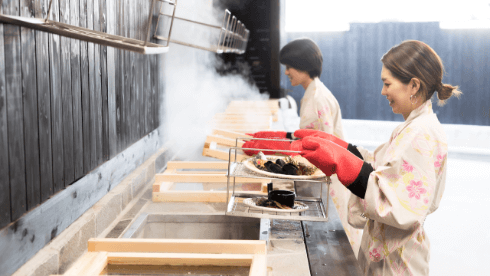 "jigokumushi"&"Insen" incorporating hot spring ingredients from the mouth
Try another feature jigokumushi, Kan'nawa's special cookery to sprinkle hot spring minerals on ingredients and extract pleasant taste umami from them.
Insen, drinking hot spring water, brings all hot spring minerals unspoiled into your body .
We are determined to exhaustively utilize the gift of the earth to entertain our guests, and hope they bring home the benefits of the hot spring in various ways.
Commitment to hot water
Hyotan Onsen originated from a hot spring which the founder dug for the compassion of his wife, Matsu, suffering from rheumatism.

"I want to ease her pain by bathing in onsen," his consideration for her encouraged him to make a rock bath in a shape of a hyotan, which started everything about Hyotan Onsen.

The founder, Junsaku, traveled around Japan to gather materials, such as crooked logs and rocks, in order to make a hyotan-shaped bath and observatory. He respected Toyotomi Hideyoshi, a16th-century great samurai leader, who allegedly liked hyotan or gourd.

The founder's omotenashi, hospitality made up of concern, consideration and sense of fun is still alive.